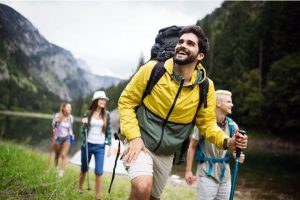 After spending the best part of a year locked down indoors, it's no surprise that our relationship with the outside world drastically changed. When you're trapped within four walls, and your only legal escape is a solo, socially distanced walk – you could bet that these walks would become a greatly anticipated daily activity. Do you remember gratefully gulping down the fresh air? And do you remember taking in the great outdoors with a new found awe and appreciation?
Benefits for your Mental Health
Spending quality time outdoors has proven to greatly aid mental wellness. It is no secret that many have suffered with their mental health during the uncertain times of Covid-19; for example, there have been radically increased cases of anxiety and depression across the UK. However, simply exploring nature – be it hills, forests, local parks or even just your back garden – has proven to be an ideal tonic to the aforementioned mental health issues. Plus, in addition to being more mentally healthy, the great outdoors also inspires physical activity. Remember: a healthy body equals a healthy mind.
Reconnect with nature
Many claim that you simply can't beat the British countryside. And at Social Circle Wellbeing, we firmly believe this to be true; across the UK, we are blessed with picturesque views, crisp country air and an abundance of flora and fauna to explore. (Did we mention our favourite colour is green?) Some examples of idyllic locations a little closer to home include: the majestic natural beauty of the Lake District, the rolling hills of the Cotswolds, the 'wild and windy moors' of the Yorkshire Dales and the Peak District, and the iconic seaside scenery of Cornwall, Devon and Dorset. Now, get exploring! And while reconnecting with nature, you may find, along the way, you begin reconnecting with yourself.
Reconnect with each other
Now that we are tentatively making our way out of lockdown (third time lucky, eh?), nature is no longer a source of escapism to be solely enjoyed alone, or within a small bubble. We can now reconnect with each other through the great outdoors! Well, up to 30 of us can, anyway. From picnics in the park to hiking across hills, from wildlife spotting to water sports – there is an endless array of outdoor activities for you to enjoy with friends, family and colleagues alike!
Are you anxious about returning to the office? Did you get a little too comfortable working from home? Have you almost forgotten how to converse sans Zoom? You are certainly not alone. But what better way to reconnect with your team than through the beauty of nature? Outdoor activities are the ideal way to refresh, revitalise and reconnect as colleagues – and the human beings behind the computer screen!
Explore with Social Circle Wellbeing
At Social Circle Wellbeing, we aim to inspire creativity and communication within the workplace, by swapping your everyday office with the great outdoors! We organise custom and pre-packaged social events for small businesses across Greater Manchester and the rest of the UK, which include a host of outdoor activities. At Social Circle Wellbeing, we believe that the mutual achievement of completing a long, arduous hike, for example, is a true bonding experience. Likewise, the picturesque sights of the British countryside provide a much-needed change of scenery! Our events include a day trip to the stunning Peak District, and an overnight 'staycation' in Keswick, in the heart of the iconic Lake District.
Get in Touch Now
If you feel like your team would benefit from a day spent reconnecting with the natural world – and with one another – Social Circle Wellbeing is here to help. We promise to provide an unforgettable experience that will refresh and rejuvenate your team, strengthening co-worker relationships and boosting long-term productivity. Working days can be repetitive, and we believe that escaping this static environment – even just for one day – can help to inject fresh thinking into your work, inspiring creativity and starting new conversations. Plus, most crucially, it will work wonders for your mental health. We all need to look after ourselves, and each other – now more than ever. It's important to remember that your mental wellbeing doesn't simply press pause when you enter the office. We spend so much of our life at work, so why not extend your social circle to the work place?
For more information, visit our website: https://www.social-circle-wellbeing.co.uk
We'd love to hear from you! Email us at steve@social-circle-wellbeing.co.uk, or give us a call on 0784 552 9538.