Whilst the government cautiously eases certain lockdown restrictions, we are starting to prepare to re-enter the 'new normal' of the world. It is now more important than ever to reflect on what lessons we have learned from the Covid-19 pandemic, good or bad, and how we can utilise them to our advantage.
Here at Social Circle Wellbeing we recognise how difficult the prospect of coming back into the office may be, especially after such a long time. Some may be excited to leave the house and have more routine to our days, but simultaneously feel anxious about returning to work with a completely new outlook on life. As a society on the whole, we have still yet to unravelled the full impact of the pandemic, but one thing is certain- it is essential to take care of our mental health, regardless of whether we are working from home or not.
Here is a handy infographic with some insights into the effect of Covid-19 on mental health.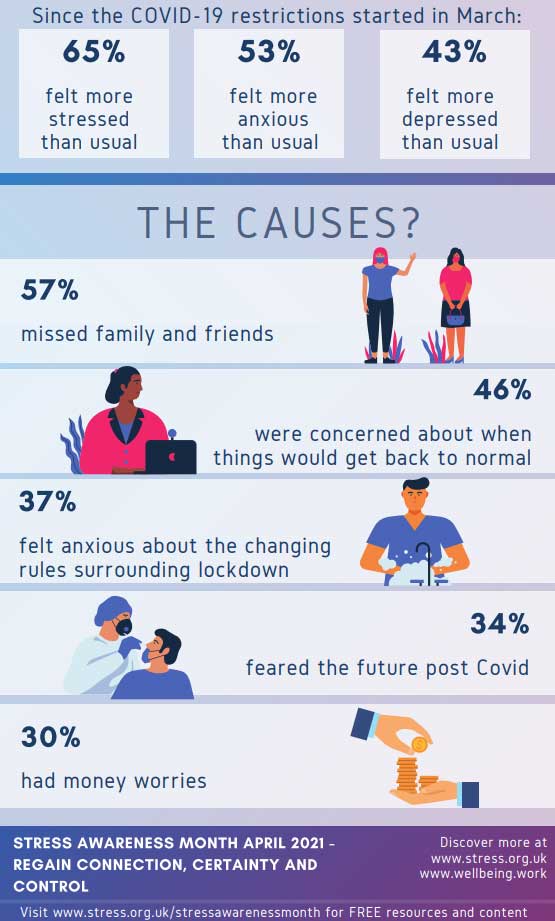 (source: https://www.stress.org.uk/stressawarenessmonth )
April 2021 is the month of Stress Awareness and it has been running for 29 years. The Stress Management Society gathers data and creates helpful resources as a result with the aim to increase public awareness about both the causes and cures for the expanding epidemic that is caused by stress. There are many resources to help those who struggle as a result of this, which can be found here: https://www.stress.org.uk/stressawarenessmonth/. We encourage you to look through some of them and consider incorporating them into your business to help your team find individuals means to cope with whatever may be bothering them now or in the future. As businesses we have a responsibility to our employees to provide them with a safe and supportive work environment, and it is our duty to adjust to their needs. Those companies who invest into employee wellbeing often report greater productivity, better team relationships and reduced absences. These align with our mission at Social Circle Wellbeing, which you can find more about on our website.
As part of Stress Awareness Month 2021, we have created content to help spread awareness and build habits that facilitate dealing with stress. Make sure to follow our Instagram @socialcirclewellbeing if you are interested in viewing this content aiming to help you deal with stress. We hope that you will find ways to incorporate these into your work life to prevent and relieve the negative effects of the pandemic.
Social Circle Wellbeing.